Customer Testimonials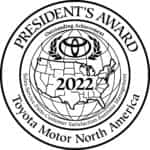 Thank you very much to Wade, Aaron and Kevin for the entire process. It was comfortable, easy and straightforward. I appreciated the entire experience.
Everything went smoothly and easily
Scheduling maintenance on my car was extreamly easy and everyone is so polite! So glad I bought my car here!
Can't say enough about my service advisor Becca. She was courteous and knowledgeable. She kept me updated on my car's progress and was a joy to work with. I bring three cars here for service and will look forward to my next interaction with her.
Excellent service dept. My service writer, Alan Modessa, explained everything clearly and never tried to upsell. Very professional and polite.
Becca was very attentive and quick to help me with my vehicle service and got me in and out.
Toyota RSM was recommended to me by several friends. They said they are the best! And I have to second that notion. It was an exceptional experience. Sanders, Aaron, Daniel and Ryan were on top of the game. Very kind, patient, informative and consistent. They made the process of purchasing a new vehicle super easy and fun. I've already recommended Toyota RSM to my friends that are looking to buy a new vehicle. P.S: Love my new Toyota Corolla SE
Quick, Easy and Professional
This is simply the best car buying experience I've ever had in 41 years of my life. Straight forward, no hidden anything. Kind staff from the sales team to the finance department all the way out the door. I truly feel taken care of and for that this review is the least I could do. Bought a BMW in the past (totally ripped me off). Stopped at Land Rover for a couple years (worst service out). Now finally landed here at Toyota. I feel really good. Thank you to everyone who helped in my process. Special thanks to Halston (wow ...
Great customer service! Always so kind and polite. Great communication too.
Best experience I've had at a service department!
The purchase of a new car was organized, thorough and simple.
Service department was great as always. Waiting room is very comfortable.
Was great, friendly and honest took geat care of me and my car.
Kevin and the team were very professional and made the process painless.
Professional Humans still work here. Thanks Alan and Jorge for making the amount of money spent, a bit easier process.
Rancho Santa Margarita Toyota has an excellent service staff, Toyota has to be very happy that Rancho Santa Margarita Toyota stands to give the same quality service as Toyota vehicles!!!
Great service, great communication overall best Toyota dealership in the area.
The service department employee that worked with me was very helpful, pleasant, courteous, responsive and efficient for my car service visit. She expedited completion of the work since I waited on-site for the work to be performed. And, I was pleasantly surprised by the repair work report and video provided. Very informative and helpful.
Always enjoy having Thomas take care of my Highlander.
Very friendly and honest service
Thomas was wonderful as always. He's very helpful and made sure I understood everything that needed be done.
Fast service. Great service writer's. Great driver for the ride home and ride back! She was an excellent driver. Thanks
Overall it was a best experience.
I was well taken care of by Teclo Minor and Otto and was the owner of a new Camry in good time.
Amazing experience start to finish! Ronnie was amazing to work with. Car was exactly as described. Amazing price. No hidden fees. Drink station while we waited- even an awesome snack bar! Walked in the door and out with our car, just over 2 hours start to finish including the test drive, car being fully touch up detailed, and all purchasing paperwork. VERY impressed!!
Nick was great. The process was smooth and and painless.
Teclo was wonderful in the process and very thorough with explaining features, options, financial results. 10/10 from the moment I walked in the door.
Rancho Santa Margarita Toyota is the best. Their service is top notch and makes you feel welcome and valued. They don't work on a commission basis and that gives you comfort you are getting a square deal. Ryan Goulding was awesome in helping me purchase the right car for me! 🙏
I had the most amazing experience at Santa Margarita Toyota. Wade helped me out and listened to exactly what I wanted with budget as well as my pros and cons in a car. We looked at 3 options and settled on the Corolla Cross which transparently I didn't think I'd be able to get. But with the help of the salesmen I was able to lease it and also receive an amazing deal. Thank you Santa Margarita Toyota and Wade Dungan for all the help. I am immensely grateful.
Friendly and great service
Great service and easy sales process from their entire staff. As car buying goes, it was a very good experience.
Mayan was very very amazing and easy to deal with! I really hope he is successful in his career and I cannot recommend him to enough people. He was extremely patient, courteous, and kind in ways I have never experienced before in my many years of car buying. Will be hopefully sending him business and I hope this review helps others find their way to him as well!
Santa Margarita Toyota has the best service and Mr Jorge A Buenrostro is the 👌 best.Thank you again.
Your Staff was amazing. No Hassle policy! Thank you all>. especially Ronnie and Ooto.
Responsive to my inquiries regarding available inventory. They had the car I wanted with the both the exterior and interior colors I wanted. There was no price haggling. Purchasing was smooth and effortless. It was a god day!
My service advisor was Alan, he provided amazing levels of customer service. Friendly, thoughtful and really took extra time to answer all of my questions. Because this was a scheduled maintenance visit, I can't comment on the technician's "repair" work, but the car was clean and I have confidence the work was done to an exemplary level.
Fantastic dealership. Nice people to work with.
This was the easiest and painless way to buy a car. Staff is incredible and accommodating . Nick and Karen worked with me to make sure everything's correct and set to my liking when buying my 1st car. Ephraim went above and beyond to make our experience great. They really cared and there was no up-selling or negotiating. I would recommended anyone and everyone to go through this location for any needs.
Karmen was great with all the details!
Fast friendly service.And the waiting areas and bathroom are clean and designed tastefully…..
I really like this dealership. Friendly and courteous staff, a lovely setting in RSM, and they provide lifts to and from the dealership as needed.
Alan was very kind and the process was very efficient.
FROM SERVICE TO SALES... YOU GUYS ARE GREAT. JORGE IN SERVICE IS AS TRUSTWORTHY AS THEY COME, AND NO ONE WILL WORK HARDER TO GET THE DEAL DONE THAN OSANA IN SALES!
Very friendly environment with positive energy! So worth the drive for me. Very honest staff with no hidden agenda! I did not feel pressured n anyway.
Fantastic experience with the RSM Toyota crew. They were extremely helpful and friendly throughout the process of buying my new Toyota Corolla hatchback. The car is beautiful and they put a nice cheery bow on top, which made it all more exciting! Highly recommend.
Thank you to Jack and the manager and also the service technicians who did a magnificent job on our 4Runner. They all went above and beyond taking care of our Toyota. We will be back! Elario
What I thought was going to be an expensive issue turned out to be a minor one. Thanks for great experience.
Attentive to my preferences. No pressure to make decisions. Well done on the prep of the newly purchased vehicle so it was ready to enjoy immediately.
Jorge was a great service writer, and was very attentive to my schedule and service needs.
Friendly people. They answered all my questions about the new Toyota I purchased. Great experience. No sales tricks. No sales pressure. No dealer mark ups like at other Toyota dealers. AND as a customer of Toyota products, I should not need to pay for dealer mark ups.
The entire visit was pleasant and the staff was prompt and cordial. The saving grace was the putting green keeping my kids entertained while my old lady shopped. Definitely recommend your next car buying experience to be at RSM Toyota because I know my next car will be.
The best, from sales to finance! Thank you SM Toyota
Friendly service and they go over all the work done.
My name is Sohrab Hajikhodaverdikhan. Today, I bought a brand new Camry and Mahan was so helpful. Thank you for keeping Mahan available for me.
Toyota RSM rectified the issue we had experienced after initially receiving my car back. The entire team, from service technicians to management, everyone who helped us the following day went above and beyond to fix the sound and more! A prime example of what customer service should be. We understand that things happen and everyone makes mistakes but the way they handled the situation really shows that Toyota RSM really does care about their customers. They have my business for years to come.
They made the whole experience easy. I had anxiety buying a new car. You hear horror stories about other dealerships. But not here. I will recommend them to family and friends.
My salesman Quaid, was the best! Most friendly, and professional. I even came back a couple days later, because I had some questions, Quaid was not in, and Brenden stepped up, and gladly helped me with a great big smile. Awesome experience!!
Straight foward, no gimmicks. Very friendly and helpful.
Jim and Richard are the best in the biz. I highly recommend Santa Margarita Toyota.
Excellent sales and administrative service. After purchase concluded, follow up "thanking for your business" by team management and dealership owner was duly noted and appreciated. Sincerely.
Alan is so helpful. He took care of my car from the date I dropped at dealer until the date I picked it up. They replaced my hybrid battery without charged any rental car.
Great people, service, and beautiful facilities. Conveniently located. Robert provided excellent service and a familiar friendly face.
Great friendly service people, very attentive and accomodating. Car back as promised no issues. Bought my car here too abd great sales team. Red carpet treatment. Literaly!
---